In ground pool liner patterns available in a variety of styles and thicknesses.
Stunning designs using inviting floor variations with contemporary and classic tiled wall styles. These in ground pool liner patterns are guaranteed to make your swimming pool look beautiful.
We've introduced several exciting new in ground pool liner patterns for the 2022 season as well as bringing back our best sellers from last year.
All of our patterns are created using the highest quality printing process. This ensures that the colors look bright and sharp for years and years – no matter what vinyl liner gauge you select. When choosing your pattern, look at both the tiled wall design and the floor pattern. The wall tile can be enhanced, and will enhance, your deck and pool surrounding. The floor pattern choice can offer a shimmering diffusion effect as found in Bayview or Siesta Wave. In other selections you can select a mosaic appearance such as Siesta River or Mountain Top. You may also like the stylized pearl shell floor appearance of the Sunset, Sunburst or Oyster Bay patterns.
If you live in a very sunny location you might consider the darker in ground pool liner patterns. These are printed on dark blue vinyl. Over time they will appear less faded than patterns on white or lighter colored vinyl.
No matter what your preference, each selection will enhance your pool's appearance.
20 mil Collection (Only available in 20 mil)
Elite Collection (Heavier gauge for a 20 mil price)


Don't miss our Elite 27 mil series of in ground pool liner patterns which provide a heavier gauge for 20 mil prices! The Elite series offers an exciting choice of additional in ground liner patterns not available in the 20/28 collection.
The Elite patterns are highly recommended for their high quality and incredible value.
20 or 28 mil Liner Collection
These patterns are available in either 20 or 28 mil.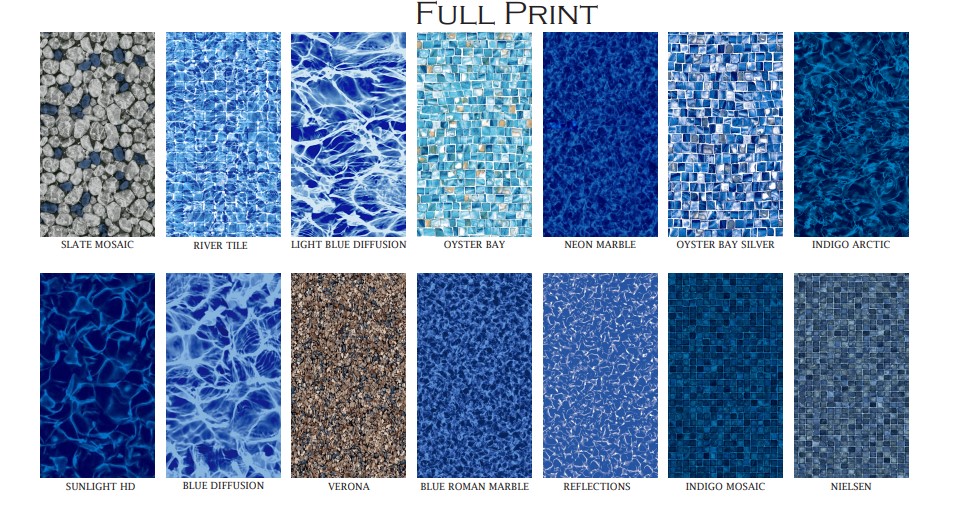 * Please note that all patterns are available in full print (no tile) for a 15% upcharge
Premium Brilliance Collection
These patterns are our highest quality liners with pattern color enhancement and Pearlescent finish.