Wilkes above ground pool liners for Gibraltar and Genesis style pools are typically Rectangle in shape with 8″ diagonal corners and use a special bead to attach the liner to the track.
EZpoolLinerDirect.com can build your Wilkes above ground pool liner to perfectly fit your pool.
Whether your Wilkes pool is flat bottom (typically 48″) or has a deep end hopper, we can build it.
Standard sizes for Wilkes above ground pool liners are:
You can select your Wilkes above ground pool liner directly on-line by selecting the correct size, specifying the corner type (usually 8″ diagonal), hopper or flat bottom and your pattern selection.
There are 2 Standard Wilkes patterns for 2021 Maverick and Augusta or you may choose to upgrade to a superior quality Elite collection vinyl patterns in 27 mil.
20 mil Wilkes Collection
If your above ground Wilkes pool has a hopper, we will need to know the interior dimensions. These include shallow end, slope, hopper and back slope as well as the dimensions of the sides and hopper across the deepest part of your pool. Also we will need to know the depth of the pool. We will produce a drawing before we build your liner to ensure that we have everything correct.
When a Wilkes above ground pool liner requires has a hopper, you can treat it like an in ground pool and use the rectangle measuring guide for in ground pools.
Not everyone can make a Wilkes replacement liner so beware. Make sure they know that only a Wilkes bead will fit the above ground Wilkes bead track.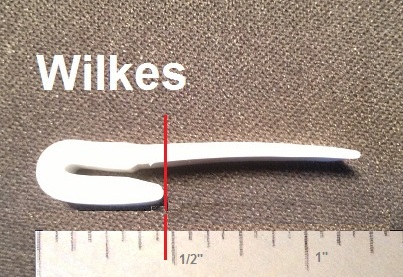 Wilkes above ground pool liners can be made using any of our above ground or in ground patterns. You will pay more for an in ground pattern but you have more pattern choice and a heavier gauge option.
We don't stock Wilkes pool liners. This means that each Wilkes liner is built to order and ships in 3-5 days (this can be longer during peak summer months).