High quality pool safety covers in a range of colors in both mesh and solid.
Mesh safety covers are generally cheaper and more lightweight.
They are designed to prevent water from collecting on top of the cover. Mesh covers allow rain and melted snow to drain right into your pool. However, the mesh is woven tightly enough to allow debris to settle on top. A good safety cover – like ours – provide ultimate UV protection with our 4:2 black/color ratio.
Solid covers are generally more expensive than mesh covers. They require a pump to remove the water which will sit on the pool cover.
The benefit of solid covers is that they block all water, snow and debris from getting into your pool. They also block all sunlight from fading your liner.
Every pool safety cover comes with:
- cover
- storage bag
- springs/sleeve protector
- 100% brass anchors and sleeves
- tamping tool
- attach/release tool
Our covers are made with black thread for a cleaner and more stylish looking cover. No unsightly white lines.

For added protection for you pool, low friction chafing strips are used. This provides easier install and removal while protecting your pool's coping.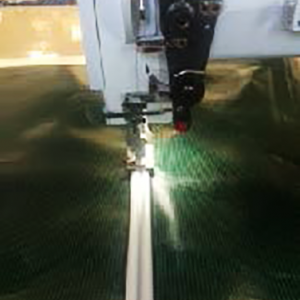 Our safety covers utilize a 4:2 black to color ratio for ultimate UV protection.

Custom made sewing machines with 3 heavy-duty needles provide are required for the sturdiest thread.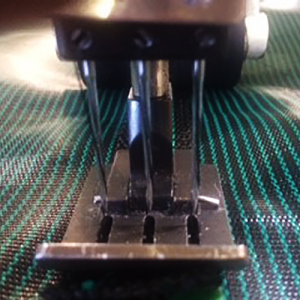 Precision guides are used for hemming and strapping. That means all our covers are guaranteed to have the straightest and strongest stitching possible.

Your cover comes with 100% brass anchors and sleeves.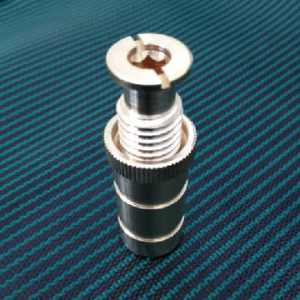 Our pool safety covers come in a range of colors in mesh or solid styles. We offer a wide range of pool safety covers for standard pool shapes and size. We also offer custom safety covers for any non-standard pool or deck.
Regular Mesh
These are our standard 5×5 mesh – ideal for wintry and very wet conditions.

High Shade Mesh
These pool safety covers are our high shade 5×5 mesh colors – darker mesh for ultimate UV protection

Solid