Above ground pool liner attachment types are either beaded or overlap. This page explains the difference between them.
Above ground pool liner attachment types – What does beaded or overlap mean?
Overlap
On this type of pool, the liner goes up and over the top lip of the pool wall. It then comes down over the edge on the outside of the pool. This type of liner is normally secured with some sort of clamping method that holds it in place (coping). Any adjustment that may be needed on the wall height of the liner is made by removing the clamp(s) and either letting in or pulling out more of the liner.
Beaded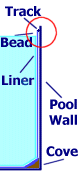 Beaded liners come in 2 sizes. 48″ & 52″ wall heights. If there is any height adjustment that needs to be made, this needs to be done by removing or building up the height of the "cove" located at the base of the pool wall within the pool. Cove is available in "wedge" shaped styrofoam or sand can be used by compacting it into the corner where the wall meets the floor.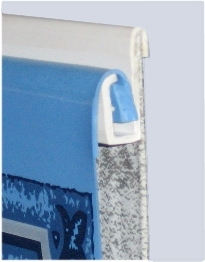 Liners which use a beaded above ground pool liner attachment type have a bead strip on the top of the liner wall. This bead strip fits into a track that runs around the inside perimeter of these types of above ground pools. Because the liner hangs inside the pool and does not overlap the wall, beaded liners offer patterns with borders at the top which tend to be more popular. Beaded liners must be ordered with the correct wall height since they do not have extra material like overlap liners do. Most wall heights are either 48- or 52-inch. Be sure to measure the height of your pool wall before selecting a beaded liner. If you need to replace a beaded liner, one thing to consider is the size of the bead on your current liner. The bead size can vary from manufacturer to manufacturer. J-hook is a bead that allows the line to hang off the pool wall without a bead track. This option allows you to choose a beaded style pattern if your pool wall is 48″ or 52″.
Expandable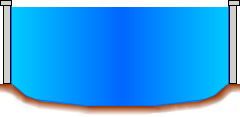 A stretchable vinyl pool liner made to accommodate a dugout hopper in certain above ground pools. Most expandable vinyl liners are made to fit above ground pools up to 72 inches deep. Also known as stretch-to-fit liners. Expandables have the same above ground pool liner attachment type as overlap pools.
What kind of bead do I have?
Once you know that your above ground pool liner attachment type is beaded, you will need to know what type of bead it is. There are five types available. Each bead has a slightly different design to fit different bead receiver tracks. Check out the bead types page to see cross sections of of the various pool liner beads.